Punithamathi Rajagopal @ (Punitha)
62, Malaysian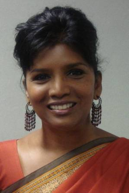 She has been a training facilitator for almost 30 years and has successfully conducted a variety of training programs both locally and internationally. Her forte is in the field of communication, self development and learning skills. She is extremely committed in increasing the abilities of individuals and enables them to lead a more productive, social and work life.
Her passion for grooming the young and her ability to work well with students brought her to starting her own learning center. This was the beginning of Able Learner Center. The services of Able Learner Center stretched from enrichment programs to community development programs. Her drive to bring true education into existence continues. It is her dream to make students learn for the sake of understanding and applying knowledge to real life. The race for 'A's' continues but it only goes to show that it is not just the A's that the planet needs. It needs men and women who can think and analyze so that they can continuously be creating better means of survivability for all. This is her life philosophy.